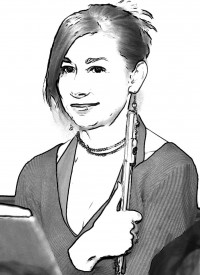 I've been a flute performer and teacher for several decades. My local Abbotsford studio resonates with the sounds of beginners to advanced students during the week. Tuition ranges from beginners to HSC and Diploma students and all levels and ages are welcome.
After graduating from the Auckland Conservatorium and playing in several orchestras, stage shows and bands (Am7, Twoloose, The Laundrettes) I crossed the Tasman to live in Sydney in 1989. I've played in various ensembles and orchestras in Sydney including performing live at the Sydney Film Festival with Jan Preston. I taught at Brigidine College for 8 years until 2005 where I formed two award winning flute choirs and have been teaching at Mt Sinai College since 2000 and Domremy College since 2014. I am currently the Flute tutor and Ensemble conductor at The Kings School.
In previous years I've also worked as an orchestral manager with the Sydney Symphony Orchestra, Sydney Youth Orchestra and SBS Radio & TV Youth Orchestra.
Today I have a thriving music practice in Abbotsford and work with primary, secondary and tertiary students as well as adults.
Mobile: 0413 622 264
Email: flutefest(at)gmail.com
DipMus. (Performance), (Auckland Conservatorium); MMus. (UNSW)